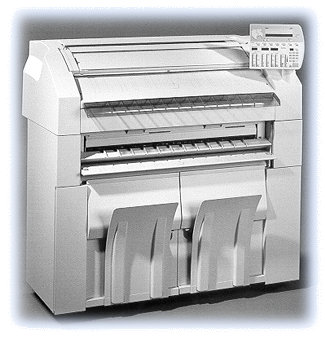 Reduction And Enlargement Capabilities At Your Point Of Need.
The full-featured performance of the Xerox 3060 brings design drafting and production printing to your point-of-need. High-quality copies do more than look good. They enable error-free communications. By delivering crisp, clean copies, the Xerox 3060 Engineering Copier can enhance your communications. But it also does a lot more. The 3060 offers a zoom optical system with a range of 45 to 200 percent that can be positioned in 0.5 percent increments, allowing you to reduce or enlarge your documents to the exact size and scale you need.
Contact Us to request further product information.
Technical Specifications for Xerox 3060 Engineering Copier
DOCUMENT INPUT
Maximum Size: 36" x 20' long (single copy mode); 36" x 60" long (multicopy mode)
Minimum Size: 8 1/2" x 11" (portrait)
Types: Opaque, translucent and transparent documents Note: A document carrier (8R3628) is recommended for damaged or very delicate documents
Thickness: Up to 3mm thick
PRODUCTIVITY
Warm-up time: Standby less than 3 minutes; cold start 5-7 minutes
First Copy Out Time (FCOT): Less than 20 seconds D size (24" x 36")
Rated speed: 15 linear feet per minute
Copy throughput (multiple copy mode): 3 E size (36" x 48") per minute; 6 D size (24" x 36") per minute; 8 C size (18" x 24") per minute
Multiple copies: Selectable, 1-15 copies per document
MEDIA
Type: 20 lb. bond, Improved 20 lb. Zero Solvent vellum and 4 mil Zero Solvent film
Supply: Roll stock selectable from any of three on-line feed rollers; each with a capacity up to 36" x 500' (36" x 150' for .004 drafting film).
Manual bypass for special media applications
POWER REQUIREMENTS
115 VAC/30 amp dedicated line
PHYSICAL CHARACTERISTICS
Weight 1000 lbs.
Height 56"
Width 57"
Depth 36"
Installation space: 100" x 105"
Agency approvals: UL and CSA
Product data subject to change without notice.